Closeup on the Miserable Humans
Life has been so busy.. I barely have time to write this entry. I havent even wrote for my personal blog or chit chat wif frens on my other blog. UGH
And so the final pic of the miserable Knightly retinue trekking across the desert. Their doom loom before them as they ran out of supplies of food and water and dehydration takes effect.
But the Bretonnian Strength, Honour and pride will sustain the group at least more than normal men can trek.. But faith is dampening as the harshness of the weather take their lives away bit by bit.
Enjoy the rather ok picture.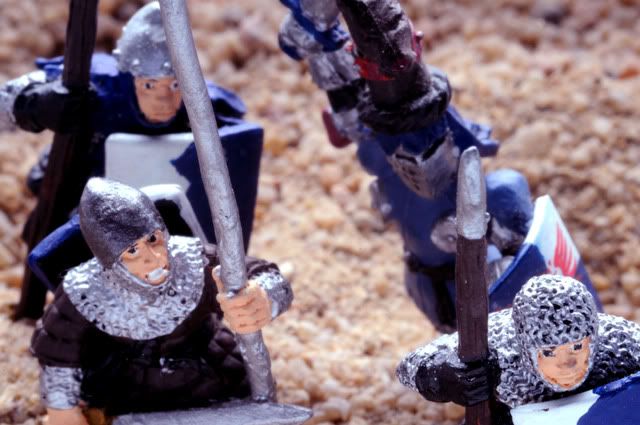 3 Men and a Knight
HAhaha, and its hilarius to know that ppl think ur models are cute. In any case, this men-at-arms have not been highlighted yet or improved yet.. so they will look less like plain joes and more like better Warhammer figures.
But as for now, time is tight.. and so my opportunities on painting is a struggle to say the least.. and in a worst case scenario, it is dormant as hell.
Will startup on it once i get back on track wif the time available.
Chill.