More Khorne
Hey Everyone!
Today we continue with another shot of JQ's Khorne warrior regiment, this time marching in a forest in search of glory in battle and death...this shot was taken with WT's canon ixus camera.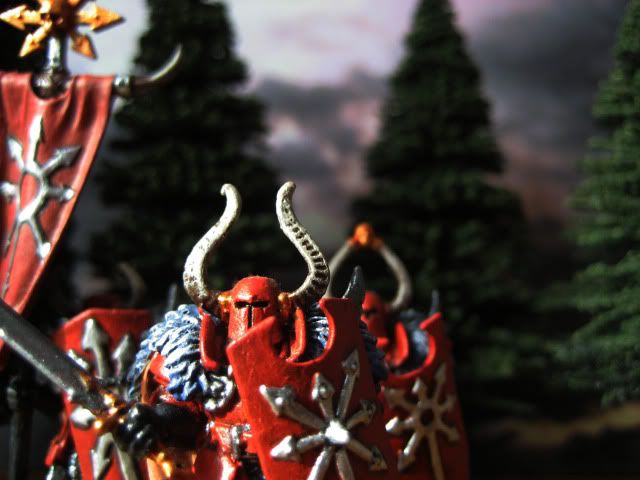 Interestingly, the major conflict between the Chaos gods, Khorne (war, hatred) and Slaanesh (hedonism, lust) is situated upon a fine difference between death and suffering. Khornate disciples strive to cause death with killing, while suffering...a product of such killing pursuits, serves to strengthen Slaanesh instead. It's pretty dark to remark that the ubiquitous soldier has less to fear from Khornate forces, since death is sometimes a better alternative to suffering, enslavement, torture etc. by Slaaneshi units.
Since GW has come up with such intricate Chaotic theology, sometimes I wonder if there's a chance that anyone who plays warhammer actively agrees with any of the Chaos gods, and inculcates it into their lifestyles. Of course that would seem pretty extreme, and yet don't we find ourselves committing some of the characteristics of the Chaos powers? Like hatred for others, lusting over a woman, desire to control fate etc., would be actions that religions will label as sin (at least I know for Christianity). At least for me, I wouldn't feel comfortable playing a Chaos army (with any of the gods in particular) and yet I cannot boast that I am so pure a person that I am 100% free of those sins, or 'Chaotic actions' in my life...which would point to my own need for Christ as my saviour from eternal death in sin (it's my religious viewpoint).
How do you view the fictional religion in warhammer (or other fantasty settings)? Do they intersect with current beliefs that you may hold?