The Lonely Shield of the Man-at-arm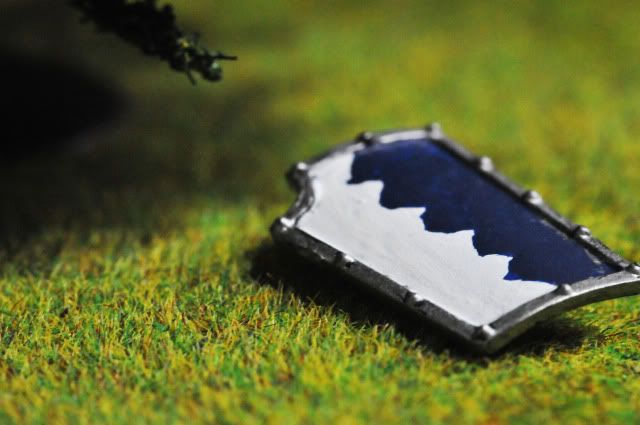 The Shield of the Army of Tempest.
The lone shield. Singular and in solitute. The Shield lies alone in the grass, awaiting its owners to wield it to battle.
But what has become of its owner? Has he abandon his post? Is he dead from Battle? or is the Shield but idling there while his owner is on an errand.
I tried to make this artful by focusing on the lone shield to give a sense of remembrance of the lowly Men at Arms.
Yes, the all too expendable Men-at-arms. Never getting a glorious moment and always expendable in the armies of Bretonnia. To make matters worse, the Men at arms have stats comparable to Goblins. Its a sad sight in which even the Imperial militia would laugh at.
But u can never forget the benefits of being the break force of the Knightly army. They are the mass in which through their numbers and attrition, they can turn the tide of battle.
This is but a small preview to my new men-at-arms which i will be featuring soon. So stay tune when my next batch of photoes will eventually show them.
On the modelling note, I have been able to assemble 12 Men at arms and am in progress to finish the last 4 to make up 16 of the new Men-at-arms. With a touch of creativity and last few strokes to finish the regiment, my new men at arms will be featured in no time. Definitely have done more improvements on these new version of the Men-at-arms compared to the old ones.