Lord of the Rings Style Pose
Howdy Wowdy to all,
Its yet another wonderful picture, in another week of the High Elves. For your info, although these Swordmasters are used in Warhammer, they are taken from the Lord of the Ring range. This is a preference by my fren, WT. So if u keen on doing this.. its not bad.. cos the figures are not bad looking.
This pic, I kinda made the pose as a string of them ready to chop down on the charging enemy. Gives that whole same scenery where the Orcs were charging at the elves in the First Movie of the Lord of the Rings in that great epic war.
What do yer think?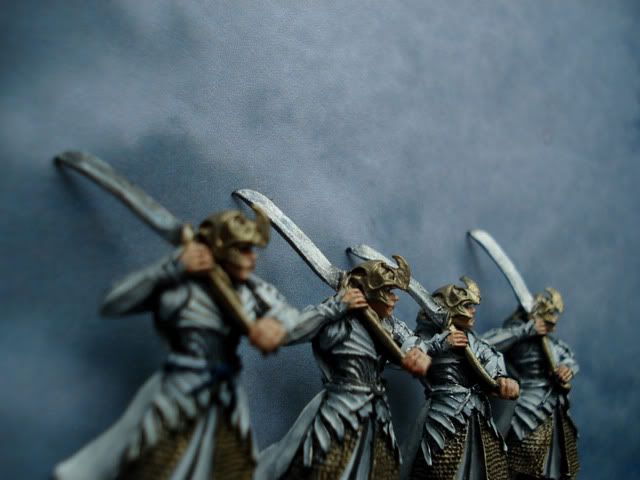 The Elves Ready to meet their match...

Onto other note, I realised while painting my bowmen and stuff.. That I am running out of scorched brown paint. I am in SG now for awhile.. went to Comic Mart to go check out and get the paint. Only to realise that it is out of stock. Suresh told me that Mid Valley in KL has an outlet for paint, so i guess i gotta make my way back to KL to go check it out and buy the stuff.. Oh well DAMN. Other than tht, I have not done anything for the hobby still as there is still so much work left to be done. Will come back soon.
CHEERIOS


A great pic. Great Painting done by WT... Love the contrast as usual.. :D