Winter has arrived
And so finally, i have finished my busy schedule of academics and it is time for preparation to go to war and have crazy warhammer fun on top of intensive painting. As many have known, High Elves are out and it is totally awesome. I shall be getting the army book, but im restraining myself from buying a new set of army that i might have to paint on top of my large amount of unpainted figures i need to cater too.
Onto the picuture, The Captain of the knight sets off from a Castle into the conflict zone. The Castle was yet another pit stop before meeting their adversaries. The Knights stay strong as they prepare to face blood and gore.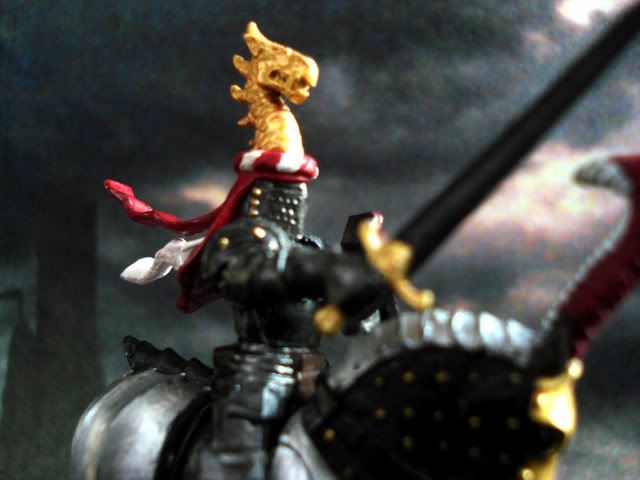 The Knight Captain gestures onward to attack while the sky darkens and cast a shadow upon the Castle on the background.
War shall begin.. and the warmongers are hungry on both sides. They crave battle and glory.. and the knights are gearing for a piece of action.
Well wif me being off the academic hook and on a break of sort for myself, i can focus heavily on accomplishing the motives i have set out wif regards to painting my warhammer stuff. On top of actually playing the game.
So till the next time, i would update u on what i shall get done, which at the moment would be the final touch up and basing of my Bretonnian Army that has been painted already.. Will also be rallying WT and Josh to join me in battling other ppl in the local community. This will be followed by a photoshoot of the next collection of warhammer stuff that i will be taking pics of, with Joshua.
Toodle loo