The Elves have returned
Its the weekly entry yet again and for this week i have news buzz on warhammer that will take over my usual daily feature.
The topic for this week would be the arrival of the High Elves. Yes, after Orcs and Goblins, the next released has finally landed and is ready for advance internet orders. THe High Elves have been upgraded so much and a lot of things have changed for them that from uber gay, they have become something else.
Now they are so overpowering, it makes my knights of bretonnia quiver at the sore sight of overloading magic and dragons. Indeed, somehow or another, the elves are able to field an awful sight of 3 dragons. Furthurmore, with ther warmachines and the revised rules for many units.. it seems it will be mch more difficult to take on WT now. I presuming Chaos Mortal Army would do better. But if the mortal army doesnt have any warmachines (other than the hell cannon) and a small percentage of demons.. U cant grind ur way to the Elven Army now.. Cos with the revival of the White Lions and their gay chariot.. And enuff magic and dragons.. its gonna be really hard now to deal wif the pesky lean men.
I am now so tempted to get a High Elf Army.. perhaps a 500 pt one for starters. :p Definitely will buy up the army book for sure, as they finally reveal a clearer picture of High Elf history.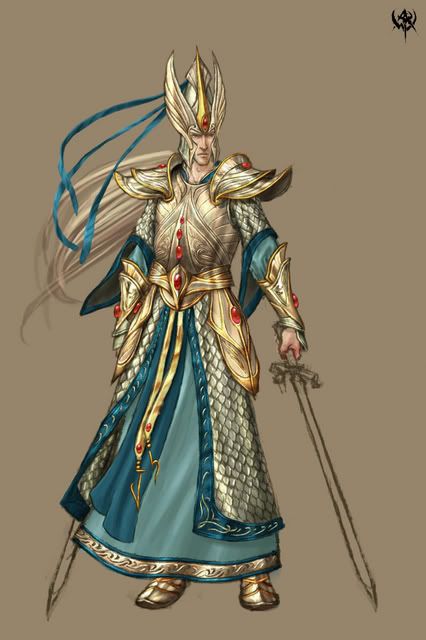 HIGH ELF SWORDMASTER
Furthurmore, the MMORPG Warhammer Online is showing very big progress with the revealing of the High Elves and Dark Elves. Character Classes seem very promising and on top of tht the concept art looks fantastic as u can see from the above. (GOD I HATE THE ELVES FOR BEING BEAUTIFUL)
Hopefully its gonna be a great game because in my opinion, the trailer was rather good and i hope it wont be a disaster like Warhammer: Mark of Chaos where the CGI trailers was almost like a movie but the game was like "sigh". (Furthurmore, advertising and selling of the game wasnt even international done) and well hopefully i can play it cos im scared the requirements and lousy internet will make it very hard for me to take on the game smoothly.
TEMPTATION SO STRONG to jus immediately buy all the high elf stuff... I must refrained!!! UGH..