The Knight Errant on a closeup.
So here we have the Knight Errant again. This is a closeup pic which provides my details on the paint job of his face. Had to add a few modifications here and there to make him look more detailed and emphatic in look.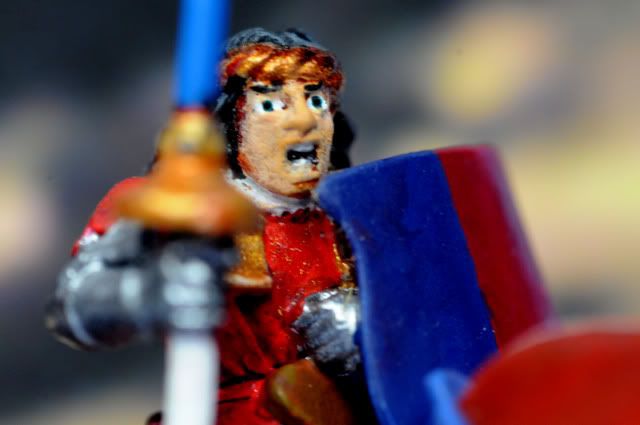 Knight Errant with a Lance.
Really love the Knight Errants and their simple-coloured heraldry compared to the other more complicated Heraldries for the other Higher ranking knights. I wanted a red and blue heraldry to mark that they were part of the Royal Regiment. At the same time, it adds a different glow and taste to my Bretonnian army.
And now for updates, i haven't continue painting for a REAL long time.. but i will be shifiting my focus soon and will get on to complete what i set out to do. So men-at-arms.. get ready to be painted soon.
On another note, the Warhammer Online game is coming with a big resounding bang. Lots of hype on the release of the game and Beta server has almost reaching its million mark. Its been said and believed that it will be the next big thing in gaming and on top of that it is said to be slated to take over WOW 5 year dominance in the MMORPG industry. But all will be more clearly known when the game is out.
At the same time, im caught in a rift of whether to join this amazing game. To add salt to the wound, tht wud mean selling my soul to this game. Furthermore, unlike Warcraft... Warhammer has been my mainstay in terms of Fantasy Gaming. (Like you didnt noe.. -_-)
I must not BUY IT NOW though..
Perhaps a self revelation on the game would provide me a clearer picture of what decision i should make. Of course, the decision will probably be mostly influenced by my compatriots and friends who see this game as a jewel too.