Warriors of Khorne
Hey Everyone!
Hope you all had a good time over the Christmas weekend catching up with family and friends...of course it may seem to be a 'Hallmark' holiday for some, and for others (like me), it holds special significance in Jesus.
Taking a slight detour from our HE flavored posts, this time we are featuring JQ's Khorne warriors.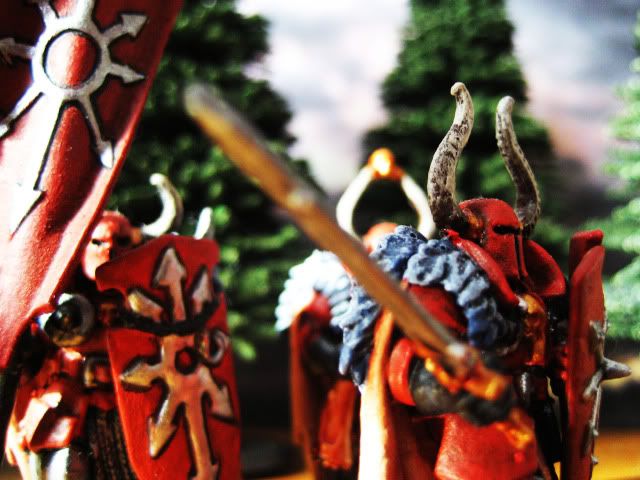 I remember the first time I read the Chaos army book, it left me very impressed with the art (like the pencil sketches spread across the book) and the writing (the chilling side stories) that fed into the general feel achieved in the book...a bleak and ashen aura that blanketed the northern wastes, the home and bastion of Chaos...an evil yet alluring entity, or even: a force we do not fully understand at all?
Of course the only thing that spoiled the overall Chaos theme for me were the old Chaos warriors, they didn't look like those in the illustrations at all, they were rather scrawny and not intimidating (in contrast of their awesome stats) and they really needed a new line to replace them. Well, the new Chaos warriors really look good to me, much alike the Chaos knights (one of the coolest figures around I think).
Interestingly, someone was inspired by Warhammer Online to make cosplay Khorne adept armor, and it was featured on the deviantart website.
Nothing much is revealed about the armor, other than it's a female set of leather armor.
http://shattan.deviantart.com/art/Adept-of-Khorne-female-armor-124884740