Holy Shit, Vampire Counts are coming
If you have kept updated with the Warhammer Tabletop news, Th Vampire Counts are the next army to be publised with new rules and new units. And guess wat? They seem to look more powerful and stronger than before, So the rumours say.
Well, Ive been looking at the gallery of the Vampire Count and browsing the new Miniatures and I must say i am pretty impressed at the new collection. This is especially so for the Blood Knights, A very very strong rival and arch nemesis for my Grail Knights. The Blood Knights look fiercesome and scary at the same time. Their Unholy Aura fills the air as they search for battle, honour and glory. Similar to the code of conduct that a Grail Knight possess. Only difference is that the Bood Knight has more skill, more years and abilities to account for, on top of their Bloodthirst.
Vampire Count is a definite powerhouse in terms of the undead and combat. Something i will have to contend with if i have to face them with my Bretonnians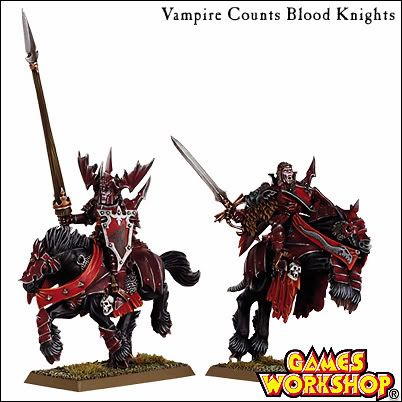 The Terror of the Night, The Blood Knights....
Onto other things, with regards to my projects, i will be combining both 2007 and 2008 projects together to be completed by this year. It is quite obvious that the projects i set myself with for last year was too much for me to handle and thus i have to contend wif combining my outstanding projects of last year with this years one. This also applies to my military model projects. So i will be updating the project list soon. But just to let you know, things are going faster now as i try to paint as much as possible before i travel out of the country.
Till then, stay tuned for more Vampire Count Analysis and look out for the gallery of Vampire Count Figures that will be coming along with the rulebook on the main warhammer site by GW.